Liz's Easter Cake
Easter Chocolate Cake
This is especially for 5th class who should have made it last week in school!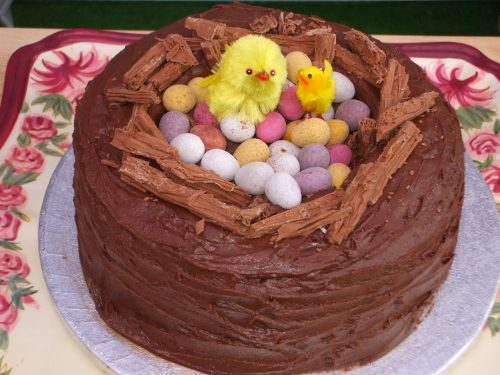 Ingredients
175 g soft margarine or butter
175g sugar
3 eggs
175g self raising flour
30g cocoa
Icing
300g icing sugar
150g softened butter
30g cocoa
Milk to mix
Decoration
Flake bar
Small chocolate eggs
Turn on the oven to 180°.
Cream together the margarine/butter and sugar until it is light and fluffy.
Beat in the eggs one at a time.
Sieve the flour and cocoa into the mixture and fold in gently.
Grease two sandwich tins and sprinkle with flour. Divide the mixture between them and bake for about 25 minutes until the cake is firm and coming away from the sides of the tin.
Cool the cakes in the tins for 10 minutes, then take out of the tins and cool completely on a wire rack.
Mix together the icing sugar, softened butter and cocoa. Add enough milk to make a spreading consistency. Use the icing to sandwich the cakes together and spread on top of the cake.
Break up the flake bar and use to make a nest on top of the cake. Fill with the chocolate eggs.
Eat and enjoy!